Surge 3D – Cool Wireless Headphone
$239.00
In the era of wireless headphones and earphones, choosing the one that fits your need is difficult. There are wide range of available headphones. Our ultimate goal is to pick one that covers gaming, music and movies. Here is one such wireless headphone – Surge 3D. The designers have carefully designed to make every experience feel true. With 30 hours of battery life and dual mode (wire and wireless), it also comes with detachable mike. Given its cost, Surge 3D would be the best wireless headphones given you are looking something for multiple applications. Do let us know what you think.
Editor's Quote
One step closer to reality with Surge 3D. Sound Redefined.
Add to Wishlist
Description
SURGE 3D – Hi-Fi Headphone
[As Provided By Manufacturer]
Surge 3D combines next level 3D audio technology with the latest bluetooth wireless connectivity, producing an accurate immersive 3D sound with patented algorithm. Experience music like you're actually there, bring gaming to the next level.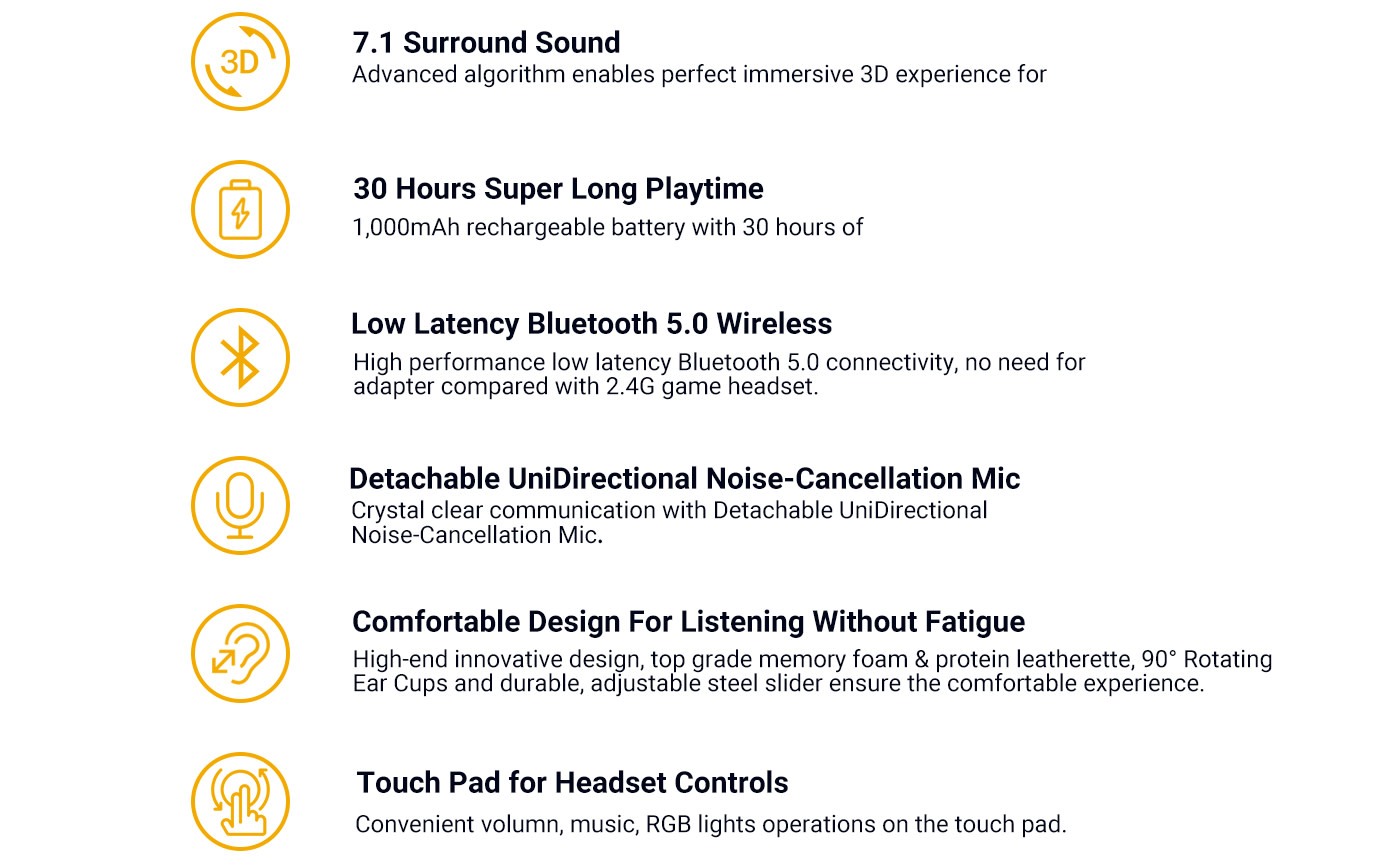 7.1 Surround Sound
Immerse Yourself In The 3D Audio
What's sound? Sound is vibration that produces waves through a transmission medium. We call them sound waves and some of them are audible to us. But sound never comes from nowhere, it comes from different directions through air to our ear.
Traditional two-channel audio only delivers sound from the left and right side, but in real life, we can identify sounds from various directions, distances and the surrounding environment.
2.5x Faster Bluetooth 5.0
Rid yourself of cables' limitation

Accurate Sound Localization
Sound localization is a listener's ability to identify the location or origin of a detected sound, both in direction and by distance. We've found a way to reproduce sound better than ever before. With the patented algorithm, Surge 3D deconstructs sounds from difference sources and rebuilds them in an environment simulator, creating a compelling surround sound experience with accurate 3D sound localization.
Customizable Room Emulation
Real sounds mix as they bounce off walls, floors, and ceilings, and gives us a feel of room size and materials within it. The brain uses the difference between the primary source and reflections to determine space. Surge 3D uses a very sophisticated customizable room model to create a sense of space.
Benefits of Surge 3D Audio
Surge 3D creates a sense of space and reflection of the sound around you. You can hear a train is coming, ocean wave roaring in front of you, your opponents sneaking up behind you, as clearly as if you are actually there.
For Gaming
Having accurate sound in gaming can make or break the experience, allowing you to know what's going on in the space of the game you can't see.
Immerse yourself in the game.
Accurately position sounds for a competitive advantage.
Crystal Clear Communication with Detachable (UniDirectional) Noise-Cancellation Mic.

For Movies
Imagine being able to watch any movie on the best speaker setup money can buy, from the comfort of your couch, bed, or anywhere.
Enjoy any movie theater audio experience from wherever you are.
For Music
Surge 3D changes the way you listen to music. Imagine hearing a concert from the best seats in your favorite concert hall. Replicate the ideal listening room or speaker setup. Hear music exactly how the artist intended.
Check Out : Cool Wearables