Morus Zero – A Cool Portable Clothes Dryer
Looking for a new clothes dryer for your home, hurry not. Meet Morus Zero, a crowdfunded countertop tumble dryer which is extremely portable and futuristic. Unlike the traditional, big and bulky clothes dryers, this gadget works on the bases of vacuum technology which uses low pressure to dry the clothes at a lower temperature. This cool dryer is so portable that can even fit in your Boat or an RV! Some of the product features include but not limited to
15 min dry
Vacuum tech
UV sterilization
Auto reverse
Fabric protection
The product isn't available at the time of updating this post. Also, some of the online reviews seem negative. Please do a little bit of research and go with the purchase if it comes back to stock anywhere.
Editor's Quote
This dryer seems too good to be true
Description
Morus Zero - Ultrafast & Portable Tumble Dryer
Product Description (As per the manufacturer) Meet Morus Zero - the world's first countertop tumble dryer equipped with Vacuum+™ dehydration technology which dries clothes in a jiffy whilst consuming less energy. It is designed for any home, and even your boat and RV!
How does this Tumble Dryer work?
- Evaporation rate of water is factored by temperature, pressure, surface area and so on... - To increase the evaporation rate of water, Morus Zero not just uses heat, but also lower the air pressure inside the dryer. Standard home tumble dryers just take too long to dry even the smallest of wash loads. They take up too much home space and can rack up a fortune in energy bills and even damage fabrics, but with Morus Zero, all of those are a thing of the past.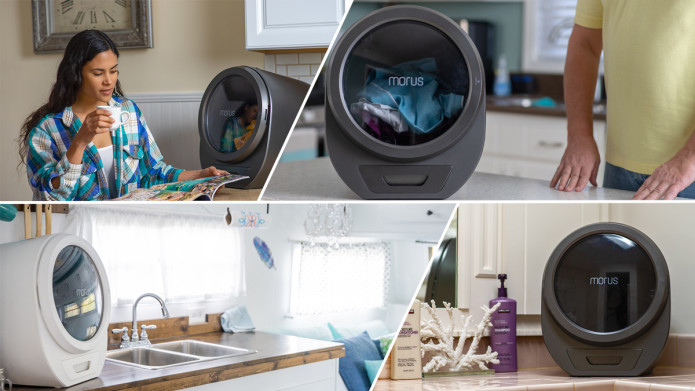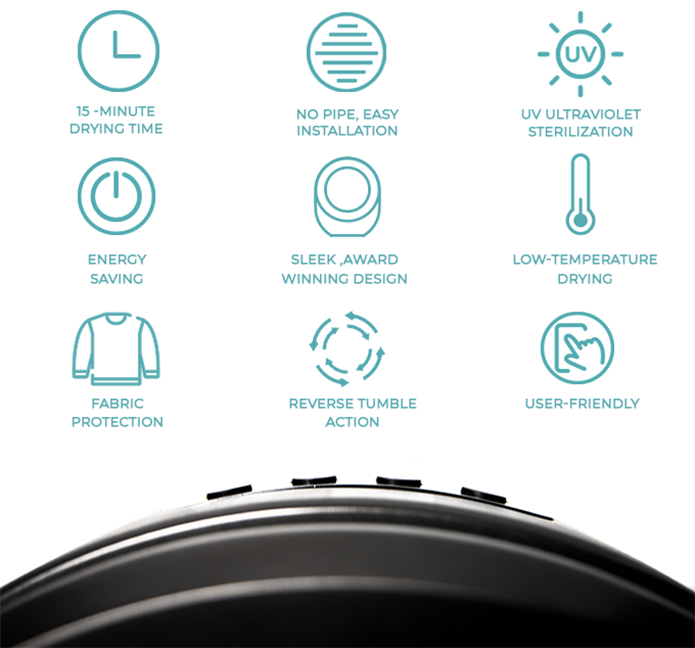 The built-in UV sterilization effectively eliminates 99.9% of bacteria during the ultrafast drying time. It's also environmentally friendly since there are no dangerous or toxic chemicals to handle. So not only does Morus Zero keep your clothes dry, but also keeps them clean from any nasty bacteria!
Drying clothes just got smarter
The moisture sensor system automatically turns off the device when Morus Zero can no longer detect moisture within the clothes and the drying is finished. Just press "Start", sit back, relax and let Morus Zero do the rest. It's that simple.
Unlike the single-motor design of other conventional dryers, Morus Zero has three high-performance motors inside, one of which is used to drive the drum to rotate independently. Our program can precisely control the direction, speed and even acceleration of the tumble. In this way the clothes can be dried evenly and come out with fewer wrinkles.
The compact design of the Morus Zero makes it an ideal choice for small living spaces, like starter homes, cramped city apartments and even RVs. Basically, you can place it anywhere. It is convenient to install, and there is no ventilation needed, making it easy to get started with the Morus Zero right away.
Mold problem? No problem!
Its design effectively prevents mold growth in your home. Instead of disposing all the water into the air by ventilation, the detachable water tank collects and stores most of the moisture evaporating from the clothes, and the built-in water level sensor notifies when the tank needs to be emptied. Morus combines a sleek minimalist design with patented Vacuum+™ dehydration technology changing the way you dry your clothes & giving you more time to enjoy what you do best. Thanks to Vacuum+™ dehydration technology, ultraviolet light and infrared heating, Morus Zero takes your drying experience to a new level. Tech Specs: The Morus Zero tumble dryer consumes around 900W of power and has a water tank capacity of 1.2 liters. For more specs, please refer the image below.