Ghostkube – Build anything with these Modular Cubes
Meet GHOSTKUBE, one of the most unique modular cubes/building blocks I have ever seen. GHOSTKUBE is a system of pieces for making moving sculptures. The Ghostkube can change shape in your hands and you can build many versions. The cubes are super smooth and simple. Dig out the creativity inside you to construct some of the most unique structures. There is not much to say here, watch the video below to get an idea of this gadget.
Editor's Quote
Look at the movements, they are so satisfying!
Description
GHOSTKUBE - Modular Building Blocks
Description (As per the Manufacturer)
What is a Ghostkube?
A GHOSTKUBE is a sculpture inspired by moving origami. It consists of cubes connected in a three-dimensional structure. You can manipulate it to change shapes in different ways. It is made from a system of pieces that lock together. When you want to try another design, you simply take it apart and build a different one using the exact same pieces. No matter if you are developing probes for you next Mars mission, constructing skyscrapers, or looking at atomic structures for nano technology, GHOSTKUBES can serve as an inspiration and a tool for creativity. What you see in the film is NOT a 3D printed prototype, it is a finished product from an industrial mold. I wanted to be 100% sure that I could offer a product that worked exactly as I intended. Building and disassembly instructions will be published online.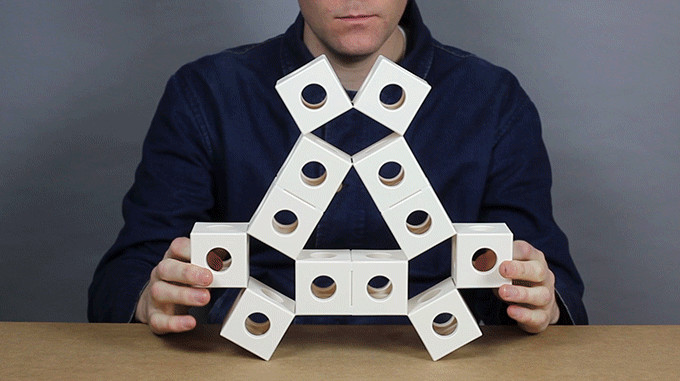 HOW OLD SHOULD YOU BE / HOW HARD IS IT TO BUILD / HOW FRAGILE IS IT?
See it as a plastic model airplane in terms of difficulty and fragility. It is actually not as fragile or as difficult as that, but if that is what you expect, you will be fine. I do not want to make false claims in relation to the expectations for the product or disappoint anyone because they cannot build it. A child might need the assistance of an adult, but could eventually learn to build it without help in a reasonable amount of time. I would probably say that somewhere around 10-12 years old is the minimum age where a child could construct these. The instructions will be in video format, with English as the spoken language. Additional languages or subtitles may be added one day but until then, look at the film to understand what I am doing and follow along to complete your build!