TimeFlip 2 – Your next generation physical time tracker
Product Overview (As provided by the Manufacturer):
TimeFlip2 is still ultimately a simple tool to track your time, but now it can do more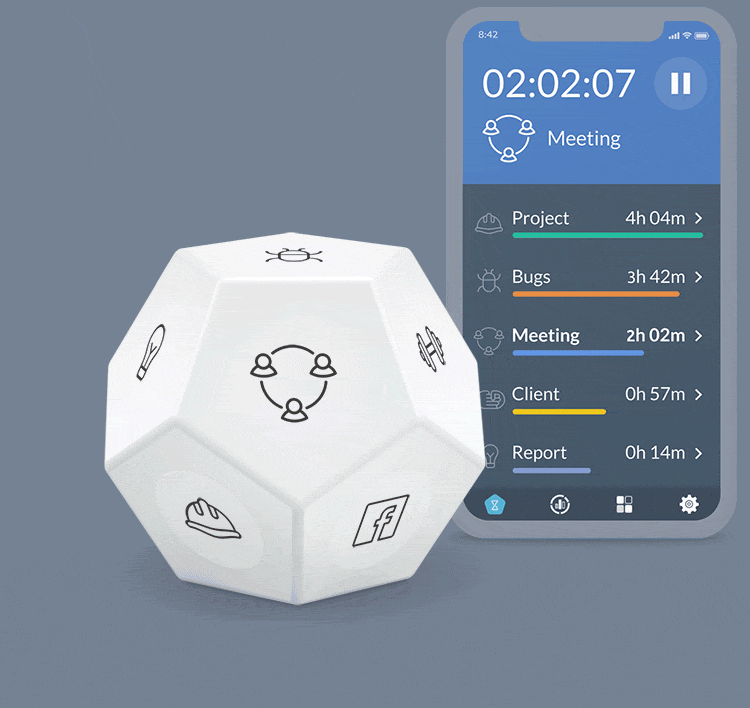 Embedded LED indication TimeFlip2 provides you with immediate visual feedback on your time status.
Pause/resume tracking by directly tapping on the device.
Pomodoro timer allows you to set time limits and split your work in quants for maximum productivity.
AI-powered productivity advisor to optimize your productivity profile.

What is TimeFlip2?
TimeFlip2 is a next generation smart physical time tracker.
TimeFlip2 is the evolution of an innovative TimeFlip time tracker, with a number of great and user-demanded features added, such as LED indication for direct and Pomodoro timer and a tap function support.
This is a great and ultimately user-friendly tool to control and boost productivity, manage workload and bill hours. Designed to help all people concerned about time management, but looking for a simple and handy solution, more comfortable than any software or app.
TimeFlip2 is attractively priced at $99, with no extra monthly fees. It offers cloud data storage and API to integrate with 3rd party software.
What's unique about TimeFlip2? Why would someone choose TimeFlip2 over any time tracking software or app?
First and foremost TimeFlip is handy and intuitive. It was designed to be ultimately simple and user-friendly after the founders tested a bunch of popular software solutions themselves. No mouse clicks or screen taps – all you need is to flip the device to start tracking time.
TimeFlip2 offers a number of great features including embedded LED indication for direct and reversed (Pomodoro) timer, tap function to pause/resume tracking, time data export, AI-powered productivity advisor.
TimeFlip2 is network independent, it can work offline and without the app. Bring it to the beach or other places with no network and it will work there just fine.
Onboard memory to accumulate data from up to 1166 flips, worth no less than 30-40 days of tracking. The gadget can be used without syncing with a phone for days or even weeks.
What are key features of TimeFlip2?
User can choose from the stickers provided or draw directly on TimeFlip surface to mark own activities or tasks to track.
Each activity can be prioritized or set as billable with appropriate rate and currency. Activity name, icon and color are customizable.
Time entries for each activity can be edited manually in the app.
Time statistics is visualized in time&money units and stored securely in the cloud. API is provided to support 3rd party software integration.
Syncs automatically via Bluetooth 4.0 to a free app available for iOS or Android. Wireless firmware updates.
Semi-transparent casing and embedded green/red LED to indicate timing in the most direct
TimeFlip sensor supports tap-on function to pause/resume tracking.
AI-powered advisor to help optimize user productivity profile.
Powered by two AAA batteries with an average lifetime of not less than a year.
Who is TimeFlip2 made for?
TimeFlip is created for people who value time and need a simple and handy tool to manage workload and boost productivity. If you are an independent professional, software developer, designer, project manager or consultant billing multiple projects or clients, an employee dealing with multitasking on a daily basis – TimeFlip is here to provide you with superb user experience at a very moderate cost.
More Crazy Cool Gadgets like this