Rotimatic Automatic Roti Maker is so Useful
Have you ever seen a fully automatic roti/tortilla maker? If not, we are presenting you with an amazing product from Rotimatic, meet the Rotimatic Automatic Roti Making Machine. This roti making machine is definitely a must-have gadget for any Indian family, especially the ones living in the USA. Unlike other roti makers which require you to prepare the raw unbaked roti, the Rotimatic roti maker does not even require it. Just put the prepared flour into this machine and the roti maker automatically prepares everything for you. It does the blending, pasting it to the circle shape and even baking it. That's no hand involved! Just crazy. You can also use this machine as an automatic tortilla maker because tortilla is just another name for roti (the mixture could be different though). Currently, we did not find any coupon code for this roti machine, if you have found one, let us know. You can purchase the product
HERE
FEATURES
Supports any type of Flatbread
Fully Automatic
Customizable
Two Year International Warranty
Editor's Quote
This Flatbread maker saves a hell lot of time
Description
Rotimatic - Automatic Roti Maker
Enjoy fresh rotis in minutes
Rotimatic - Automatic roti maker is the world's first fully integrated solution that measures, mixes, kneads, flattens, cooks, puffs and, delight. All in one!
LOAD fresh Ingredient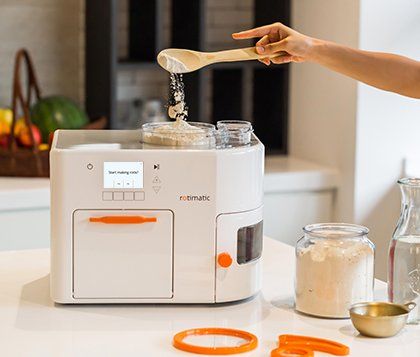 PLAY your preferences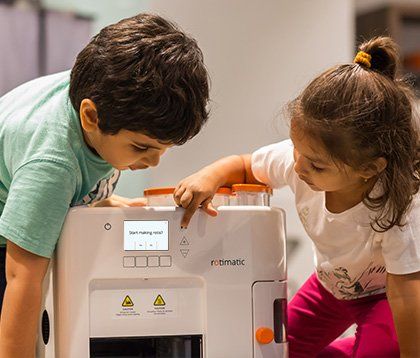 One hardware - Many software updates One Rotimatic - Endless Possibilities

This is the release roadmap of features.(For illustration purpose only — does not represent the order of release.)
Be in Control
You are in charge of what goes into your flatbread. All you need is flour, oil, and water. No more hidden additives, chemicals, or preservatives from frozen food. Pick every last ingredient, so everything is fresh!
Some of the Best Reviews
Economical
"From 20 to 50 cents per frozen roti, to 5 to 10 cents per Rotimatic roti - it's totally worth the investment. We have completely stopped eating out on weekdays!" - Manik Sharma
One Touch
It`s so easy and simple, I get 20 extra mins of sleep every morning - Shraddha Mahajan
Healthy
I know exactly what ingredients go in my roti so I am sure it's healthy - Priya Khanwalker
Mess-Free
Cleaning is the best part.. everything goes in the dishwasher! - Geetha Murthy
More than just Rotis
Rotimatic is designed as a platform to make any type of flatbread. It connects to the internet and upgrades with features that add more variety to your table and parties.