Pamu Slide – The Coolest & Smallest Wireless Earbuds
Pamu earbuds by Padmate have been phenomenal these days. They are affordable, unique and feature-packed.  Pamu Slide is their third model to be out in the market after Pamu Scroll,  both of which have rocked Indiegogo in the past. Pamu wireless earbuds are small, lightweight and of course durable enough to use them in almost any condition. Pamu Scroll, priced at around $50 is packed with features like sweat-proof, touch control, BT 5.0 and an amazing battery life of 60 hours playtime. These earbuds have the best bass effect, audio quality, and comfortable fit. The touch control lets you change the audio track, increase or decrease the volume and of course, receive calls. There are two versions, Pamu slide and Pamu slide + and the latter has a wireless phone charging feature.
FEATURES
60 Hours Battery Backup
Bluetooth 5.0
Touch Control
IPX6 Sweat Proof
Type-C Fast Charging
Editor's Quote
60 Hour battery life! These Earbuds are worth every penny
Description
Pamu Slide - A Study and Durable Earbuds under $50
Product Description (as per the manufacturer)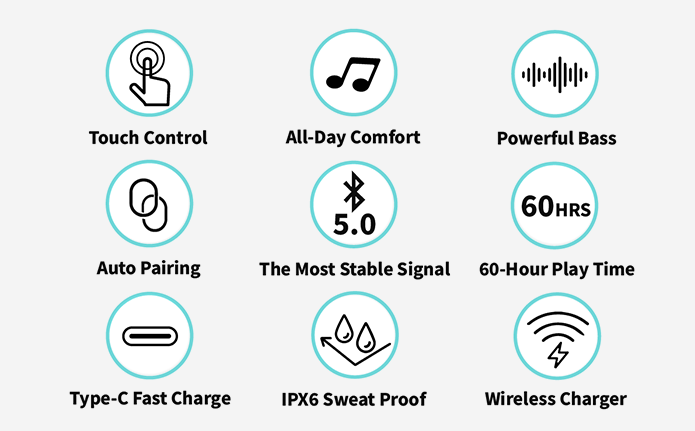 The best wireless earbuds give you superior sound quality whatever device you use. You will soon hear the difference with PaMu Slide, its advanced TWS chip really bringing purity to your music, letting you hear it the way the artist intended. Bass beats are deeper, soaring vocals hit new heights. These earphones really deliver an authentic and precision audio experience.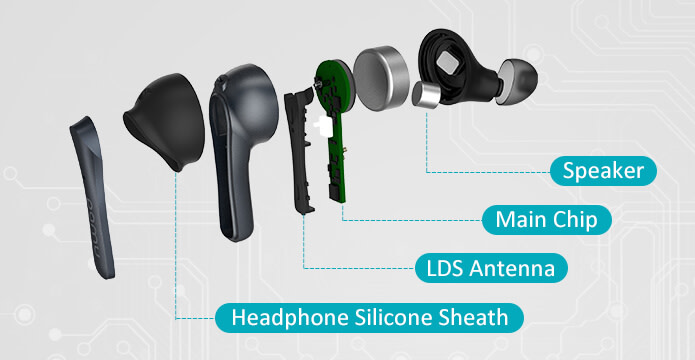 Pamu Slide vs Airpods 2
 This graph shows that the Pa Mu Slide sound quality is pure, consisting of bass that's deep, well-balanced and clean. The layering is clear and the vocals more attractive,has powerful bass and super high sound.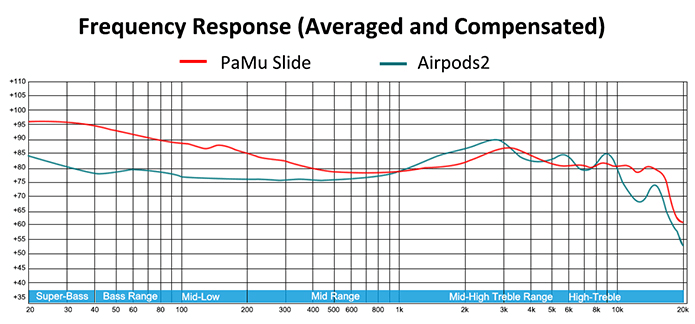 What's the point of having wireless earphones if you're forever having to carry around a charger with wires? It's why you get a Wireless Charging Case with your PaMu Slide earphones, so everything is wireless.

Whether you're running, jumping, climbing, whatever, the ergonomic design of PaMu Slide earphones means they give you lasting comfort and never fall out.
Just a single charge of your PaMu Slide wireless earphones can give you over 10 hours of playtime. And with the portable charging case delivering 5 full recharges, that's up to 60 hours of music, enough to last you a long weekend.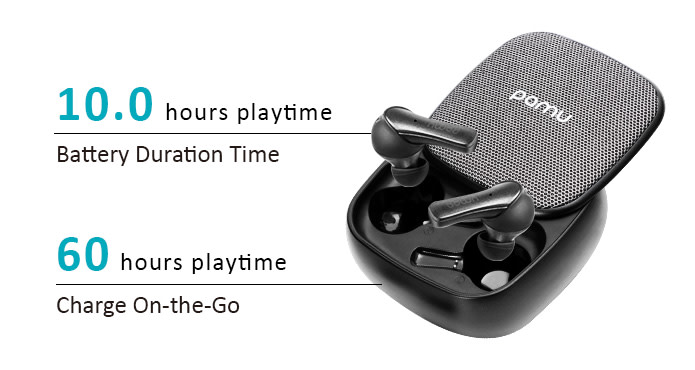 A full charge will also give you an impressive 10 hours of hands-free voice calling. And a full charge also gives you over 1 month of standby time.
Just 5 minutes of charging gets you 1 hour of play or call time. That's all down to the power of the PaMu Slide's Type-C connector. When the battery is low, you won't have to wait long to get your wireless earphones back working, with super fast, really convenient charging. Just grab yourself a cup of coffee and before you've finished sipping the froth, your earphones will be back in the game, ready to keep you entertained.
PaMu Slide has an IPX6 Water Resistance rating. That means when you're running or doing whatever sporting activity you're involved with, no rain, water or sweat can penetrate the sensitive components in your earphones. So you can work out to your favorite soundtrack in all weathers, safe in the knowledge that your wireless earphones are, well, safe.